Engine parts
Engine Bearing sets for 1956-67 engines
We have funded a project to supply the main- and big endbearing sets for crankshaft bearings in the smaller sizes as these were long out of supply: STD, 010, 020 and 030 for the 1390, 1494 and 1592 Sunbeam, Hillman, Singer and Humber engines. For the big end bearings we decided to use lead copper, for the mains the standard material. Both proved best in longlevity and performance when used with standard and modern oils.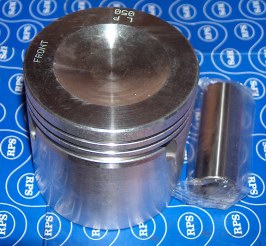 Pistons
One of the best examples is the piston sets we sourced. These were obsolete from any major supplier from back then, and the current suppliers were using old tooling, inferior material and poor sizing/calibration. One supplier had more than 0.15" difference between the 4 pistons in one set! Not one was correct.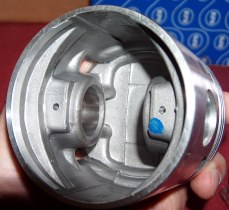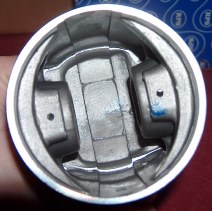 The ones we have managed to get made are of high precision moulds, casted and turned to the correct specs from Rootes. The actual design is taken from one of the best (german) suppliers in the 1960's.
This choice also provided us with a full range of pistons. All sizes from STD, 020,030,040 and 050 are availiable off the shelff at competetive prices.
As production volumes are low, modern technology helped us out using other production methodologies. Thus we were able to get to reasonable volume productions.
A pity however was that this highly specialized piston manufacturer only made the pistons and pins. They did not make the rings to the correct specs as we were after.
Pistonring sets
To get the correct pistonring sets, we had to go elsewhere and found a supplier that made the correct to date rings in sets, including the original chrome top ring.
This choice will prolong the engine life and it provides a better base for the restoration.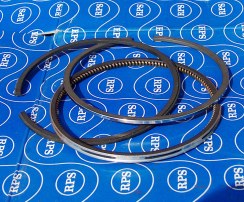 We also have sourced the correct valve guides, main and big end bearing sets and are working to get new camshafts made!
Please check out this website to learn more !
We have both the lightweight and the one in the picture with the rubber inlay.
The pulleys we have made have a thight fit. The crank must therefore be very clean and smooth when fitting. This as to avoid play, causing the frequent cracking it does around the spline. Rootes cranks were not allways made with the same tolerances, in these occasions lightly grind (with finishing paper) the pulley until it slits easily onto the crank. Use WD 40 when fitting. Our pulley has the two holes for using a puller to remove again it without distortion.