Chrome bits
Our remanufactured parts are all carefully crafted to the original, or better, specs.
The chrome parts are all handmade. Instead of usng the ZAMAC , Zamac is Zinc Aluminium Metal Alloy Casting popular in the 1950-70's, we use brass for our chrome bits !
This will prolong the life of the part (as it does not rust nor corrode) and it provides a better base for the chroming process too.
As production volumes are low, we were not able to use High Pressure castings, but modern technology helped us out using spin cast and other production methodologies. Thus we were able to get to reasonable volume productions. Final finishing is done by hand. A time consuming process, but the only way to have control from start to finish. This process is carefully managed, although it leaves small finishing differences between items that cannot be avoided when working by hand.
Bonded rubbers
For the rubbers, especially the bonded rubber parts, we have been able to get the original specs from metalastic. This means all parts are made to original Rootes specs, and not the aftermarket products like QH and so on. You will be amazed about the fit.
How we got to the correct casting/moulding/materials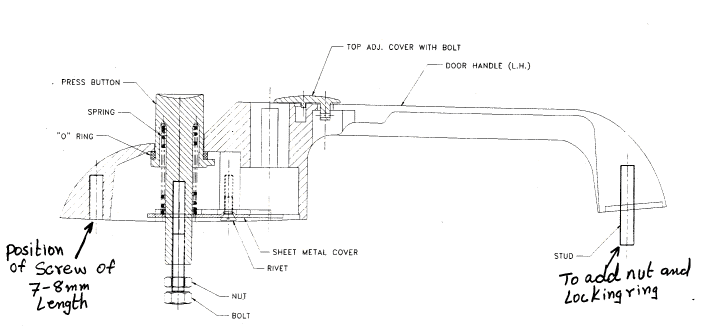 A lesson to be learned in remanufacturing is allways: how much effort was put in the backward enginering and redesign process.
To get to a good mould, one should start with a drawing and then go from there. However this is the most expensive part of remanufacturing and rarely the way you see parts being made. Not with us: we have either started with the original drawings, and fortunately we were able to get some of them from former manufacturers, and all other parts were taken apart to get proper drawings.
All materials were examined to get the original specs.
The proof is in the pudding
And now some samples of what you never see in a brochure! Take a look at the rear of our parts. This shows you we have been really into the details. Of course Rootes engineers have been putting a lot of effort in the design of the complete part, we did too.